It is 6.30am, a crisp moonlit morning, 18 January 2022
Outside, an orange wolf-moon glows as its beams of light make the frosted grass effervescent, and the bodies of resting sheep are shadows along the contours of the land.
As I load my lunch, notebooks, and wellies into the car, I hear the distant rumbling of our cows waiting to be fed; steam rising from their collective breath in the still morning air.
Driving away, I notice the sun's first rays over to the East, and our neighbouring farm, Bwlchyddwyallt nestling in the shadows of Mynydd Gorddu; its stoic wind-turbines, metallic growths from peaty earth.
I wonder about place names – things that might be lost. Fields, whose boundaries might be removed and with such erosion, the specificity of naming.
Cae Pant Hir Isaf,
Cae Drŵs,
Cae Cerrigog,
Caeae'r Cwm,
Rhôs, 
Esgair,
Ffridd Fâch.
A Language living in the soil; in the naming of place and in the bounded fields I know.
And here, a new place. A place I got to by memorizing the 'street-view' journey on google maps. Pathways across space and time, through places I don't know, with stones and soil different to home.
An easy drive along the coast – busnesa ar anifeiliaid pobl eraill ar y ffordd – a favourite pastime of all the livestock farmers I know. What breed are these sheep; what good hedges; how tall is this clawdd, how rutted is the gateway. The little things noticed as I pass.
And here, a warmth of collaboration and a generosity of spirit. How to share knowledge. Growing better connections, a sense of cysylltiadau cymunedol dwys. A bringing together rather than a fracturing; a noticing of what maintains the strength of humanity in this small yet connected place.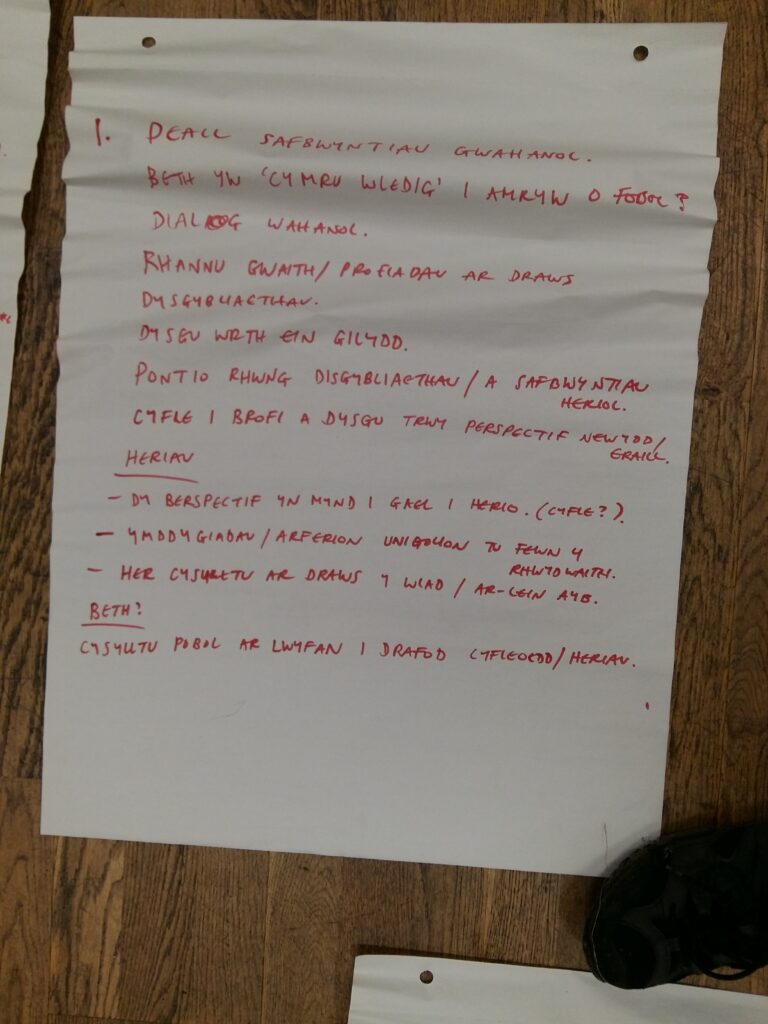 Approaches to restoration and conservation with gentle collaboration; compromises and meetings of mind. Knowledge, 'on the ground'; what shape is this land, what shape was it and what shape might it be in the future. Connecting people with responsibility, to reduce over-reliance on nitrates; the root stunting chemicals leaving micro ecosystems in disarray. And fire…heat of summer blaze, broken by hard work to prepare y Tir Comin; ungrazed, but not unloved.
Cold ears burnt by the Easterly breeze, and hair wildly framing faces. A short bus trip back to the warmth of Canolfan Hermon. Lunch in good company and reflections on paper as big as I am, with ideas and questions even bigger than me. Iain, his clear guidance of what to do, not to do and everything in-between. How to be a good colleague, to be generous with what you know. How to reach across boundaries rather than close the gate. How to find common ground; places, things, knowledge of shared value and interest, to be OK with differences of opinions. How to have gentle patience with one another and to accept the ensemble experience.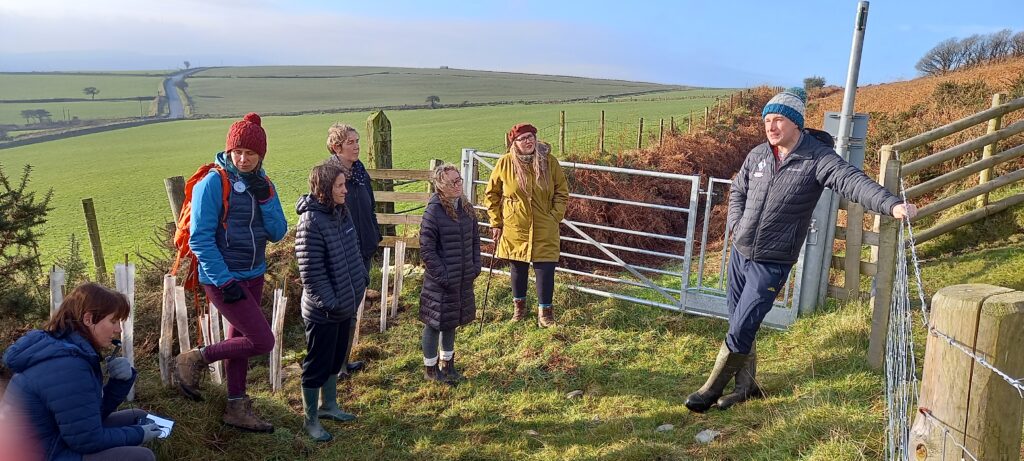 Groups, discussion, questions.
Complex ideas, complex feelings. Multiplicity of perspectives and approaches. Negotiating unknown territory – how to think of the diversity of rural spaces and the multitude of stories at work here.
How to be inclusive of these and to acknowledge the palimpsest of these contentious spaces; the layered landscape as a placeholder for our history, language, culture, memories, and ourselves as beings in the world.
How to include creativity too – modelling or scaffolding onto existing arts/rural practices and finding ways of engaging a public and experts, from farmers to artists and academics.
For me, an unanswered question from the day's activities – how to be ok with my own sense of vulnerability in this. The possibility that I may 'feel' publicly. That I may find these questions hard. That It may open a sense of sadness for me about my own future on my land.